Oh my, what a weekend it has been! Wonderful and insane all at the same time! To start you out, here's a pic of the crowd that was here. From left to right: Justin's parents (John & JoBeth), my parents (John & Jan - Mom is holding Patriot.), my sis Jessica and her husband Matt (Jess is holding Azlan), and Justin & me.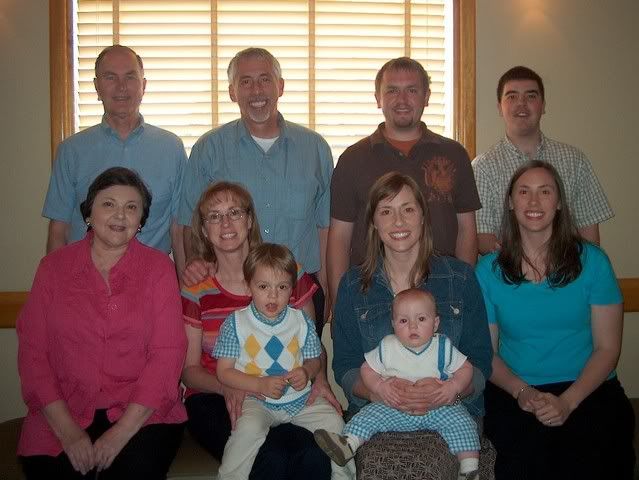 John & JoBeth arrived Thursday at lunchtime. We drove to Salado and ate at the Stagecoach Inn, a historic restaurant in a neat little Texas town. Then we spent some time browsing the shops before heading back to Waco. My family spent ALL DAY in the car Thursday and arrived in Waco at 1:00 in the morning, after a 21 hour trip! Whoa!
Friday I worked half a day to let my family try to catch up on their sleep. Then for lunch we split up to have Men's and Women's lunches. Justin took the men to some obscure barbecue place, I don't remember the name of it. But they said it was the best barbecue they've ever eaten - good for them. I took the women and children to Amelia's, a little cafe inside a neat antique flea market looking thing. We all ate quiche and fruit salad - a pretty girlie lunch!
Friday evening was Justin's Hooding Ceremony, called so because people receiving Master's Degrees wear hoods with their gowns. Here's a picture of Justin's hood.
The colors all have meanings - the green and gold represent his university, and the brown is supposed to represent his field. However, we noticed that his brown was a different color from everybody else's there! Apparently the bookstore gave him the wrong color hood! Oh well, his color looks better than the others did anyway. :)
Saturday morning we went to the Mayborn Children's Museum on Baylor's campus, and it was SO COOL!!! Patriot just LOVED it, and Azlan had fun too!
Of course, the big boys in the group managed to have their own fun... :)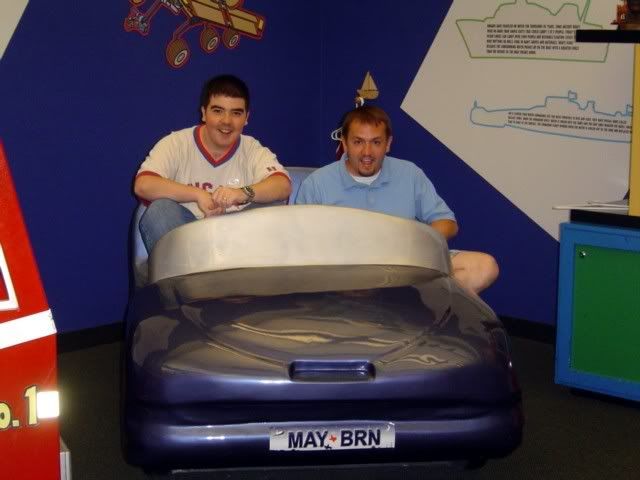 We spent the evening Saturday just hanging out and playing games.
Sunday for Mother's Day, we all went to our church and then out to lunch at the Elite Circle Grill. It's a neat restaurant that just around the corner from our apartment, but we'd never tried it! It was yummy, and we took the picture at the top of the page there.
My family hit the road after lunch on Sunday, and Justin's left Monday morning. Phew! Fast and fun. Many thanks to everybody for making the trip down - it was WONDERFUL to be able to share this blessed time in our lives with you!