I read
an article
recently saying that blogging is slowly dying with the rise of "microblogging" sites like Facebook and Twitter. And that is certainly proving true in my life! I'm definitely not intending to kill my blog, but it is dying slowly of starvation just because I don't take the time to keep it up. I am, however, putting small updates out multiple times a day on Twitter/Facebook, so for any of you that may be interested in keeping up with what we're up to, please feel free to follow me there!
Twitter
or
Facebook
. (I'm pretty sure you don't need to be a member of these sites to be able to see my updates. The same updates go to both sites, so you only need to follow one!)
As an example of my neglect, here's a video that I've had for MONTHS that I just haven't gotten around to posting on here. (If you follow me on Twitter, you saw me first post about this in January!) For Christmas I got a smartphone with a touchscreen, and I downloaded a game for Elias called
Funny Invaders
. There's a little spaceship dropping things over a bunny, and you have to hit the right button to make the item disappear or it will bonk the bunny in the head. Elias absolutely loves this game, although sadly enough for the bunny, he likes it best when the bunny gets bonked. It makes a funny buzzing noise and vibrates the phone, and Elias thinks this is HILARIOUS! So here's a video of one of the first times Elias played the game: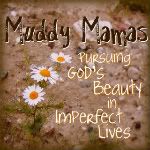 And finally, many of you have already seen this on Facebook, but I've started a blog with 5 other Christian women called
Muddy Mamas
. We're going to be just sharing ideas and experiences relating to keeping our homes, parenting, marriage, and anything else we can think of related to living lives of faith. So please
follow our blog
, and you can
like us on Facebook
to get updates there too! I'll be writing on that blog a whole lot more than I'll be writing on this one!